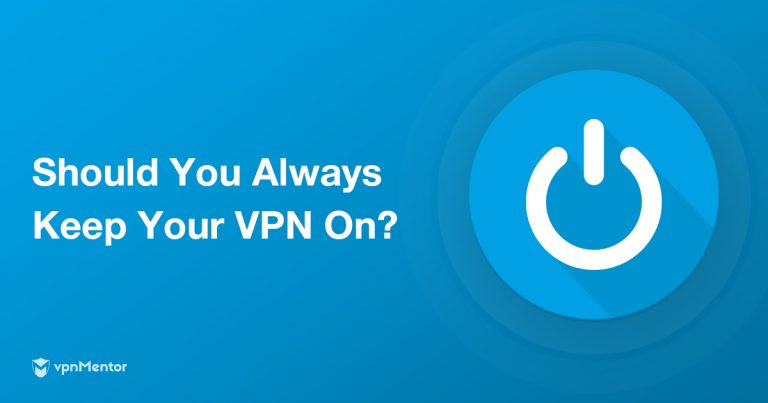 Should You Always Use A VPN? It Depends on These 7 Things
A virtual private network, or VPN, is a powerful tool that prevents corporations and cybercriminals from accessing your personal information. When you use a VPN, your data travels to a remote server via a secure connection. The remote server masks your IP address, so it looks like you are accessing the internet from another location, which also allows you to bypass geoblocking and censorship.
Because of this, VPNs have grown in popularity over the past few years, particularly in countries like China, where online censorship is rampant and sometimes dangerous. However, people all over the globe use VPNs to protect their privacy, anonymity, and unrestricted access to the internet. But is it necessary to have your VPN switched on and connected at all times?
Well, it depends on why you're using a VPN. To help you decide if a constant connection is necessary, we have compiled a list of frequently asked questions and their answers.
Are You Using Your VPN to Bypass Geoblocking?
If you are, it's a good idea to leave it running while you're streaming or viewing geoblocked content. Once you disconnect from your VPN, your IP location will be exposed. You might be able to see the content that's already on your screen, but the website will probably block you when you try to load a different page.
However, if your VPN's bandwidth is limited, you can try continuing to watch after you've turned your VPN off. This will let your ISP's bandwidth take over. You'll need to partially load the video before you switch your VPN off. That way, you'll ensure your browser has passed the streaming service's IP location checks. We've tested this hack with Hulu, and it works well, but it didn't work when we tried it with Netflix.
If your VPN's bandwidth isn't lasting, ExpressVPN offers exceptionally high speeds and unlimited bandwidth so you'll never have to worry about exceeding your allowance again.
Are You Concerned About Your Online Privacy?
VPNs offer the best protection available when it comes to your online security. Therefore, you should leave your VPN on at all times to protect from data leaks and cyberattacks. VPNs encrypt all the data that travels over your network, which makes it virtually impossible for hackers, ISPs, and governments to see your personal information.
If security is your top concern, you should make sure that your VPN uses military-grade encryption. You'll also want an automatic kill switch that turns your connection off if your VPN fails or becomes compromised. With a strict no-logs policy and 256-AES bit encryption, CyberGhost consistently ranks as one of the most secure VPNs on the market.
Is Your Internet Slow?
A VPN can either help or hinder your connection when it comes to speed. If you're experiencing ISP throttling or a congested network, using a VPN connected to a nearby server will speed things up again.
However, if you're experiencing other speed issues, it's possible that connecting to your VPN will slow you down even more. This is due to the distance that your data needs to travel to the remote server and the time it takes to encrypt and decrypt it.
When your connection is running slower than normal, try turning your VPN off for a while. If speed is a common concern, ExpressVPN is one of the fastest VPN providers available.
Are You Looking to Save Money?
You can also use your VPN as a tool to save money when you're shopping online. This is especially useful when you're booking flights and hotel rooms, as prices tend to change drastically depending on your location.
Booking websites track your search history and use that information to change the deals and prices they offer you. A VPN will hide this information from them and ensure that you get the best price every time.
You can also make the best of sales when you shop online by changing your virtual location to regions where the product is available for a better price. For example, if you buy gifts for friends and family overseas, you can access the store from a server in their home country for the best deals.
If you're a fan of great prices and deals, HMA operates servers in over 190 countries so you'll be able to shop virtually anywhere.
Is Your ISP Limiting Your Bandwidth?
If your ISP limits your bandwidth to help with network congestion or to lure you into upgrading your plan, your VPN can help increase your speeds. With a VPN, you'll bypass ISP throttling by communicating directly with your chosen remote server.
You'll get the highest speeds if you connect to one that's close to your physical location, so look for VPN providers with servers in your country.
IPVanish operates over 1,000 servers across 60 countries, so you're bound to find one that's close to you.
Are You Using Public WiFi?
Public WiFi networks make it exceptionally easy for cybercriminals to hack your private data. That's why it's necessary to keep your VPN on to maintain your security.
If you're looking for a VPN that you can set and forget,PrivateVPN security features detect when you're using a public WiFi network and automatically connect you to the VPN, so you never have to worry about your data being exposed.
Are You Transferring Money?
Transferring money is a little more complicated. If PayPal detects that you are using a VPN, it will lock your account to prevent it from being hacked by cybercriminals. If it happens, you'll have to send a copy of your ID to PayPal's security team to unlock your account.
Your bank may use similar security protocols, which will make using a VPN for internet banking tricky. However, it's still critical to protect your personal information when you're transferring money. Luckily, there are some easy hacks to overcome this without having your account locked.
The most effective way to prevent this is to connect to a nearby VPN server. That way, it won't look like your connection is coming from outside the country. If you've got an Australian PayPal account, for example, and you log in through a US VPN server, PayPal's alarm bells will go off.
If you're looking for a good VPN to use with PayPal or online banking, prioritize services that offer WebRTC blocking. WebRTC blocking ensures that your browser won't leak your geolocation. CyberGhost prevents WebRTC leaks and gives you the option to use a dedicated IP so that PayPal won't recognize it as an address that belongs to a VPN company.
For more information, check out our article about the Best VPNs for PayPal.
The Bottom Line
VPNs are a powerful cybersecurity tool for protecting your personal data. By connecting to a remote server, you can bypass censorship and geoblocks, and even grab yourself a bargain when you're shopping online. But it isn't always necessary to leave your VPN on at all times. In fact, in some situations, it's beneficial to switch it off for a while.
If security is your main concern, then you should leave your VPN running while you're connected to the internet. Your data will no longer be encrypted if you turn it off, and the sites you visit will see your real IP location. But if you use your VPN for other purposes, like accessing geoblocked content, it's okay to give it a break from time to time.
If you want to find a VPN you can count on, check out our top five charts for some great choices. They all come with free trial periods or money-back guarantees, so you can try them out risk-free.
Don't miss our frequently updated coupon page for some incredible deals that can save you some serious cash.
Here are the best VPNs in July 2022...
Privacy Alert!
Your data is exposed to the websites you visit!
The information above can be used to track you, target you for ads, and monitor what you do online.
VPNs can help you hide this information from websites so that you are protected at all times. We recommend ExpressVPN — the #1 VPN out of over 350 providers we've tested. It has military-grade encryption and privacy features that will ensure your digital security, plus — it's currently offering 49% off.