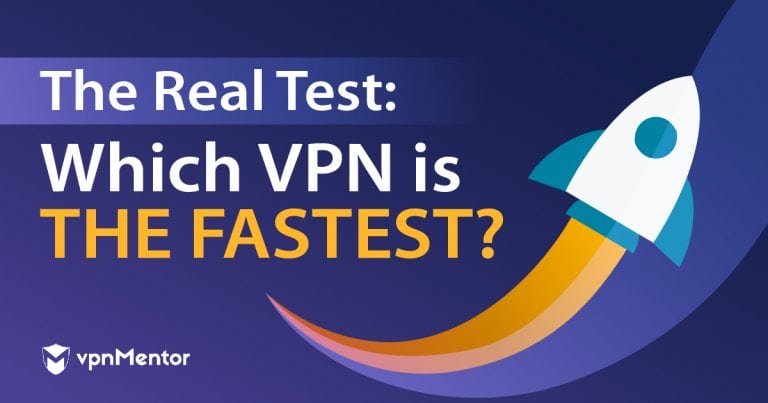 10 Fastest VPNs in 2022 — The Highest Speeds From Our Tests
Updated on 18th July 2022
When so many VPNs claim to be the fastest, it's hard to know which will truly give you the highest speeds. That being said, consistently fast speeds are not a compromisable feature. You need a superfast VPN to prevent annoying interruptions while you stream, browse, game, and torrent.
To find out which really are the fastest, my team and I speed tested more than 85 VPNs. We compared long and short-distance servers and tried each one out with various online activities at different times of day over many months.
From these, ExpressVPN delivered the fastest and most consistent speeds. Its Lightway protocol is ultra-fast, and it offers 3,000 servers in 94 countries, so you'll always have a reliable connection. Plus, the apps are user-friendly and give you the fastest connections without hassle. You can even try ExpressVPN risk-free. It offers a 30-day money-back guarantee, so if you find it's not for you, it's easy to claim a refund.
The Fastest VPNs – Full Analysis (Updated July 2022)
ExpressVPN is the fastest VPN I've ever used — that's thanks to its very own Lightway protocol. I tested it with a base speed of 268.24 Mbps. Using OpenVPN, its Dallas server (the closest to me) gave me 251.02 Mbps. Keep in mind it's expected that a VPN will slow your connection down a bit because of encryption and the extra distance to the VPN server. However, when I switched to Lightway, my speed boosted to 259.50 Mbps — just 6% slower than my base connection. I used this to watch 4 episodes of The Handmaid's Tale (Hulu) in Ultra HD; there was no buffering the entire time.
Its huge server network gives you access to 3,000 servers in 94 countries. First, I recorded my average speed from 3 nearby servers (all in the US), which was 221.58 Mbps. I also tested 3 of its long-distance servers (Brazil, France, and Tokyo). From these, I found an average of 179.22 Mbps — over 7 times what you need for Ultra HD streaming (and almost 12 times faster than what you need for fast-paced online games like PUBG). With these speeds, you can enjoy streaming, gaming, and torrenting from any location without interruptions.
The app is optimized for speed because it automatically sets you up with the fastest connection. I found its "Smart Location" feature helpful; it picks the fastest server for you, so you can connect immediately. There's also a built-in speed checking tool that will display ExpressVPN's entire server list in terms of ping, download, and upload speeds. On top of this, its split tunneling feature helps you prevent speed loss by allowing you to encrypt only the sites you choose.
One minor con I found is that it's a bit pricier than some VPNs — its plans start at $6.67/month. Luckily, ExpressVPN offers discounts and coupons; when I signed up, I got it for 49% off plus 3 free months of service. Short-term plans are also available, offering the same features. However, this costs significantly more, so the best deal is to go with a long-term subscription.
You can test ExpressVPN's speeds for yourself risk-free since it offers a 30-day money-back guarantee. This way, if you're not impressed, it's easy to claim a refund. I requested my refund after 27 days of testing using its 24/7 live chat feature — the process was pretty simple. The agent asked me a few user-experience questions, then instantly approved the return. I saw the money back in my account after just 2 days.
CyberGhost gives you optimized servers to stream, torrent, and game online at top speeds. I found the specialty servers quickly in the app. Plus, they gave me speeds around 11% faster than regular servers.  The streaming options are labeled according to which site they work best with. While testing its "Netflix US" option, I watched 3 episodes of The Sinner. I never got stuck waiting for the next episode to load. Plus, I could watch it in Ultra HD without encountering any buffering.
It boasts 8,914 servers in 91 countries, so you'll always have a speedy and reliable connection. I tested its Dallas, Chicago, and Atlanta servers and found an average of 211.79 Mbps (about a 23% speed loss, which is a good result). Even its long-distance servers — Bangkok and Auckland — gave me speeds no lower than 146 Mbps. However, I did encounter a significant speed loss while using its Johannesburg server. Regardless, I could still use it to watch 3 episodes of The Witcher on Netflix with zero buffering.
You can boost your speeds by changing the security protocol. Speed loss is a normal result of encryption. However, when I switched from OpenVPN to WireGuard, my speed (from the server nearest me) increased by almost 5%. Alternatively, it offers IKEv2, which I found to be stable but a tad slower.
Unfortunately, a few of its long-distance servers were not as fast as those nearby, including its South Africa (Johannesburg) location. Plus, when I connected to Germany, it took a minute to load a YouTube video. Luckily, it has a massive network of alternative servers, including several locations in Germany. This allowed me to find a German server with a faster connection.
You can get a subscription for just $2.29/month. When I signed up for the 2-year plan, it even included 2 additional months for free. There are short-term plans available which offer the same features, but they will cost you much more overall. So the best value is in its long-term options.
This plan comes with a trustworthy 45-day money-back guarantee. When I requested my refund (after 28 days), I used the 24/7 live chat option. The agent wasn't pushy, and only asked why I wanted to cancel. Then, they issued the refund, which I saw in my bank account after 3 days.
Private Internet Access (PIA) has one of the most extensive server networks. I found tons of connections near me; closer servers are better for speed since your data doesn't travel as far. I tested 3 nearby (Houston, US Texas, Denver) and found an average of 167.48 Mbps. Plus, there was no overcrowding so my connections remained stable. I had the best performance when testing PIA's speeds for gaming on these local servers, as well – I played Valorant with no latency or lag.
The app offers a variety of features to help you get the best speeds. Advanced VPN users who torrent often can use port forwarding to speed up downloads by connecting to more seeders. There's also a SOCKS5 proxy available to increase torrenting speeds. However, this isn't as safe because it doesn't encrypt your connection. While testing, I found that split tunneling gave me an easy speed boost — I used it to route only Netflix through the VPN so less data was encrypted.
Top-notch security protocols keep your connections fast. When I tested 3 long-distance servers using OpenVPN, my average speed dropped to 97.24 Mbps. However, I switched to WireGuard which bumped my average to 104.59 Mbps. I even used the Australia server to download Night of the Living Dead (790 MB) using uTorrent in about 3 minutes.
One downside to PIA is that it's headquartered in the US, which isn't great for privacy. However, I found that its no-logs policy has been proven in court when PIA wasn't able to share any data when asked by the FBI. So, it's still a VPN you can trust with your personal data.
You can sign up for as low as $2.19/month with a long-term subscription; sometimes it even includes some additional months for free. Plus, you can connect up to 10 devices at once. My advice is to go with a long-term plan — the short-term options offer the same features but at a higher cost.
Included with the plans is PIA's 30-day money-back guarantee. This policy is one you can count on — I tested it myself after 25 days and had no issue getting my refund. Using its 24/7 live chat I made my request and answered a couple of questions. I received the money in my account within 4 days.
With IPVanish's comprehensive apps, you'll have no problem finding a speedy connection. Each server is displayed with a number between 1-100. The lower the number, the less congested it is — meaning, you'll get better speeds. Additionally, it displays the servers' ping (in ms). A lower ping means less lag for streaming, browsing, gaming, and torrenting.
Alternatively, you can let IPVanish find the fastest server for you by using "Quick Connect". I tested this by selecting a country (in this case, Spain). Then, I selected "Best available city" and "Connect", which instantly set me up with its fastest server in Spain — Madrid. This connection allowed me to stream Netflix in 4K, so I "favorited" it for easy access in the future.
IPVanish offers a variety of protocols to help you balance speeds and security. Its fastest options include WireGuard, PPTP, and OpenVPN. You can also select between OpenVPN UDP or TCP and there's an option to scramble your traffic. I tested 3 nearby servers using OpenVPN UDP (since it's faster than TCP) and found an average of 155.28 Mbps. When I tested Stockholm, Bucharest, and Auckland, my average was still plenty fast to stream in Ultra HD at 121.96 Mbps.
Unfortunately, I couldn't get IPVanish to work with Disney+ or Hulu. Luckily, it gave me fast and easy access to other streaming sites, including Netflix and HBO Max.
There are a couple of signup options — the cheapest plan is $3.33/month. Considering IPVanish lets you connect an unlimited number of devices simultaneously, it's a really great value. In addition, there's a monthly plan including the same features. However, it's much pricier, so you'll get the best deal with a long-term subscription.
You can even test IPVanish's speeds for free with its 30-day money-back guarantee. When I tested its refund process, I didn't even have to contact an agent. I simply logged into my IPVanish account and followed the prompts to cancel my subscription, which took seconds. I got my money back after 5 days.
PrivateVPN lets you choose your encryption level. It's typical for encryption to slow your speeds. So by lowering the encryption level (from 256-bit to 128-bit), you can boost your speeds. However, this won't offer you the same level of security. So I don't recommend it for accessing sensitive information, such as your online bank account.
The app provides details to help you easily find the fastest servers. Each connection is displayed with its ping. I also liked the "Closest Server" feature — when I clicked it, I was presented with a list of PrivateVPN's servers nearest my location. The closest server to me (Dallas) gave me 144.57 Mbps. However, I found its Denver location to be less crowded and faster, so I "favorited" it for future use.
To keep connections fast across the globe, PrivateVPN uses "High Quality Network" (HQN) servers. These are purchased directly from IP transit providers to prevent speed loss as a result of using hosting companies. During my tests, I found its Amsterdam and Zurich locations to be impressively fast, especially for long-distance speeds. These produced an average of 161.06 Mbps. However, its Brisbane location was not so impressive at just 9.25 Mbps. Luckily, PrivateVPN offers an alternative Australian connection in Perth, which gave me much better speeds of 53.62 Mbps.
One downfall is that PrivateVPN doesn't have the largest server network, and you won't find alternative server options in every country. However, almost all of the servers I tested were fast and stable. I could stream in HD, browse, game, and torrent as if I were using my regular internet connection.
Subscriptions are budget-friendly, starting at just $2/month and you can connect up to 10 devices under a single subscription. Short-term plans are also available; each one offering the same features. However, you're best off going with a long-term plan since you'll save a significant amount of money.
The plans also include a 30-day money-back guarantee, so you can try PrivateVPN out for free. The refund process is quick and easy — when I tested it, I used live chat to make my claim. After asking a few questions, the representative approved the refund. Within the week, I saw the money in my account again.
ProtonVPN offers its "VPN Accelerator" to boost your speeds. Using a combination of technologies, it overcomes CPU limitations and improves TCP connections. Before enabling it, I tested the speeds of the closest server to me — US CO #10. This gave me 262.13 Mbps, which was a 14% decrease from my starting point (301.84 Mbps). However, when I tested VPN accelerator, it boosted me to 291.27 Mbps, which was only 4% slower than my base connection.
The app gives you options to fine-tune your VPN use. It offers a choice of protocols, with the fastest being WireGuard. There's also a split tunneling option, and a built-in ad blocker to prevent pop-ups from interrupting your online activities and improve website loading times. Plus, you can create profiles for your favorite servers — I organized a list of the fastest connections based on my location.
It has a large network of 1,827 servers in 63 countries. I tested its Ukraine and New Zealand servers and found an average of 199 Mbps. This slight amount of speed loss was not even noticeable and I could stream without any lag. With tons of fast servers, ProtonVPN is perfect for streaming content from around the world.
The only downside is that you'll only get access to ProtonVPN's unlimited speeds with its "Plus" plan. In addition, it gives you access to its entire server network and 10 simultaneous device connections. There is also a "Basic" plan for much cheaper, but its features are much more limited. Luckily there are usually discounts available — right now, you can sign up for ProtonVPN's Plus plan for $4.99/month.
It's also backed by a 30-day money-back guarantee. I tested this by submitting my request through a contact form on the site. ProtonVPN's refunds are prorated, based on your unused days. Since I had 14 unused days, that's what I was refunded for — the money was returned to my account by the next week.
With Hotspot Shield's own Catapult Hydra protocol, you can get superfast speeds even at long distances. Using this option, I tested 2 Texas servers and found an average of 121.59 Mbps. I was especially impressed with the results when I tested its Armenia server, which is thousands of miles from me. My speed only dropped to 86.13 Mbps — this was more than enough for me to enjoy Cargo on Netflix without buffering.
The app is user-friendly and provides you with information for finding the fastest server. For example, it comes with a built-in speed testing tool, which helped me determine which local connection would provide the best speeds when I wanted to download a torrent file (it offers unrestricted torrenting on all servers). You can also view the load percent and latency of the server you use — but you first need to connect to it. I found this a bit less convenient than ExpressVPN's app, which displays this data for every server with its speed testing feature.
Another speed-boosting feature in the app is SmartVPN. This allows you to select specific apps to bypass the VPN (split tunneling). I found this feature in "Settings" — it's super easy to use. I just had to select which apps I wanted to route through my regular connection. With this, you don't have to encrypt unnecessary traffic.
Its plans are more expensive than some, starting at $2.99/month. However, while signing up, I found out that Hotspot Shield offers discounts up to 77% on select plans. Short-term subscriptions are also available but will end up costing you much more.
You can also test its speeds for free with its 45-day money-back guarantee. All I did to get my refund was request it via the 24/7 live chat. The agent asked for a reason, and after a few minutes, they issued the return. I had my money back in 7 days.
ZenMate gives you optimized servers for smooth streaming and torrenting. I found these instantly in the left column when I launched the app. In addition, the torrenting servers display user load and distance. This made it easy for me to select a fast connection — I used its Bahamas server to download a 1 GB file in just 3 minutes.
It has 4,800 servers in 81 countries, so you can always find an uncongested connection. During my tests, I experienced some lag with its "Amazon Prime US" connection, likely due to the high user load. So I switched to its Chicago server, which gave me 140.61 Mbps — a 77% increase from the specialty server. This eliminated loading times and buffering.
The app displays tons of details to help you optimize for speeds. In addition to the distance and user load, it also tells you the exact number of users connected to each server. Or, you can let ZenMate choose the fastest server available to you with its "Best Server Location" feature.
My only complaint is that ZenMate's long-distance servers were pretty slow. However, its nearby connections were plenty fast for streaming, gaming, and torrenting.
Plans are affordable, starting at just $1.99/month for the "Ultimate" subscription; I went with this and got 3 months for free on top. There's also a "Pro" plan available for browsers (Chrome, Firefox, and Edge). However, the best value is in the Ultimate plans — it covers tons of devices, not just browsers. This includes mobile phones, tablets, macOS, Windows, routers, and more.
Its 30-day money-back guarantee lets you try ZenMate for free. I tested the refund policy by using live chat on the website. After providing a reason and answering a couple of questions, my refund was approved. By the next week, I had my full payment returned.
The Bolt feature in hide.me's app helps increase your speeds — especially for Windows users. Windows isn't great at handling UDP traffic and can be slow as a result. With Bolt enabled, UDP is avoided whenever possible, forcing the use of TCP instead. When I turned this feature on, I noticed an instant 15% speed boost in the Dallas server I tested.
It offers additional user-friendly features to speed up your connection. This includes port forwarding and split tunneling. Plus, each servers' ping is displayed, which was helpful when I tested it for gaming. Within a minute, I found a nearby server with a ping of 29 ms. This allowed me to play Call of Duty: Warfare without lag.
There are a variety of protocols to choose from, but I found WireGuard to be the fastest. Using OpenVPN, I tested its South Korea server, which gave me 10.14 Mbps. However, with WireGuard, this number increased to 16.76 Mbps. Both protocols were fast enough for me to stream Snowdrop on Disney+ without lag.
Its long-distance servers had high ping — most were above 200 ms. Although it's common with most VPNs, it isn't ideal for playing against opponents abroad. However, its nearby servers gave me smooth gameplay, and its long-distance speeds were plenty fast for streaming international content.
You can get hide.me for $3.84/month. When I signed up for this plan, there was a special on it which included 2 months for free. This option is the best value — the short-term plans are much pricier for the same features. You can also connect up to 10 devices simultaneously.
All of the subscriptions also include a money-back guarantee that you can trust. When I tested the refund policy, I used 24/7 live chat — there were no questions asked. The money was returned by the next week.
TunnelBear's apps are super easy to navigate. Its world map feature allows you to quickly connect by selecting a location from the map. I found this much faster than manually choosing a server from a list. Otherwise, its "Fastest Tunnel" feature will automatically connect you to the speediest server. It uses OpenVPN by default, so I recommend using UDP since it's faster than TCP.
It also has a "TCP override" feature that can improve the stability of your speeds. This is available for macOS and Windows. If you run into a choppy connection, you can enable this feature with one click in the app's settings. When I tested it on my Windows laptop, it significantly reduced the buffering I encountered while watching Don't Look Up on Netflix.
You can easily find a reliable connection since it offers 2,600 servers in 48 countries. I tested its US and Canada locations, which produced an average of 118.90 Mbps. However, I experienced much slower speeds with its Taiwan server, which caused a lot of buffering while I tried streaming in HD. I didn't have this issue with its European locations (including Copenhagen) — these were all fast enough to stream in HD without lag.
One con is that it doesn't offer a money-back guarantee. However, its subscriptions are affordable; you can sign up for TunnelBear for just $3.33/month.
Quick Comparison Table: Fastest VPNs
A fast VPN will provide you with high speeds not just locally, but at long distances, too. However, some of these VPNs performed better on local connections and some are better for long-distance ones. What's also important is the VPN's stability to keep your connection from suddenly dropping. By offering superfast protocols and a large server network, a VPN can keep slowdowns minimal.
While speed loss is inevitable while using a VPN, other factors affect speeds so results can vary depending on your base connection, location, time of day, and ISP. Ideally, you shouldn't encounter more than a 40% decrease on local connections. Furthermore, I recommend using a VPN that gives you a minimum of 25 Mbps wherever you connect. This will ensure uninterrupted streaming, browsing, gaming, and torrenting.
VPN Speed Test Results: Compared
For the chart below, I took the average speed loss for each VPN and converted it to show what percentage of my base speed was left over. So, the closest to 100%, the better.
Research Methodology: How We Tested the Fastest VPNs
I vigorously tested these VPNs' speeds to come up with accurate figures you can use to determine how they'll affect your own connection. All these speed tests were performed from my location in the US on my Windows 10 laptop, using the same broadband line and speed testing tool (speedtest.net) with a base connection speed of about 250 Mbps.
For local speed test results, 10 server locations within 1,000 km of my actual location were chosen and I ran tests in the morning, afternoon, and evening. This gave me a total of 30 results per location that I then averaged. For long-distance results, the same process was used, but with server locations at least 8,000 km away.
I tried to choose the same server locations for each VPN, but since network coverage varies between VPNs, I made sure servers located similar distances away were selected to keep results as consistent as possible.
Please keep in mind that VPN speeds are volatile. Results can vary depending on your base connection, location, time of day, and ISP. I included the percentage of speed loss compared with my base connection, which should help you figure out how these VPNs will affect your own speeds. Ideally, you shouldn't encounter more than a 40% decrease on local connections.
I also considered the following:
Fastest protocols offered — All of the VPNs in this list offer the fastest protocols in the market; in most cases, this is WireGuard. However, a couple of VPNs have proprietary protocols, such as ExpressVPN's Lightway and Hotspot Shield's Catapult Hydra. These are usually speed-optimized and can sometimes be faster than WireGuard.
Reliability and stability — I tested out connection stability to make sure speeds didn't fluctuate heavily or disconnect while using the VPN. I connected to servers for hours on end to make sure they performed well consistently.
Good ping and P2P functionality — While download speeds are the main factor when judging a VPN's speed performance, ping (latency) is also important — especially when gaming. Ping measures the time it takes to process your inputs, so I chose VPNs that allow you to see this ping information to help you choose highly responsive connections as well. I also made sure to choose some VPNs with speed-boosting features for torrenting, like SOCKS5 proxy support and port forwarding.
How to Get Faster VPN Speeds — Simple Hacks
Using a VPN will slow down your internet connection a bit, but if you follow these tips, you can minimize the impact.
Use an ethernet cable. You'll see the fastest base speeds when you hardwire your computer to the internet. A faster base speed will result in a faster VPN connection speed. Use WiFi only when necessary.
Connect to a nearby server. In most cases, the further your data has to travel, the more your connection speeds will slow. Use the closest available server whenever possible. If you just want to protect your identity and personal info, connecting to a server in your city or state is sufficient. Alternatively, you can connect to a server located somewhere outside peak usage hours for less crowded servers.
Use the right VPN protocol. Some protocols are super secure, but the tradeoff is that your encrypted data takes longer to travel back and forth, resulting in slower speeds. Other protocols reduce security, which improves speed. Some VPNs allow you to switch to 128-bit encryption, which is a tad less secure but can boost your speeds. If you use OpenVPN, also make sure you use UDP, not TCP. However, during my tests, I found that WireGuard is the overall best for both speeds and security.
Set up split tunneling. Some VPNs offer this feature — it allows you to select which apps or websites to route through the VPN, while the rest of your traffic remains on your local connection. For instance, you can protect your banking or torrenting apps with the VPN, but keep your Netflix region local. Since you won't be encrypting unnecessary traffic, you'll be reducing the amount of speed that's lost in the process.
Try different ports. Some anti-VPN technology works by blocking or restricting particular ports that VPNs are known to use. You can sometimes get around these limitations by trying a different port. In addition, using a VPN that offers port forwarding can help you boost speeds while torrenting, for example.
Review your software and hardware configuration. If you're using an older computer, a weak processor or insufficient RAM could prevent you from realizing the fastest internet speeds. Likewise, some computer programs may interfere with VPN usage. If possible, temporarily shut down programs that may eat up bandwidth (torrenting software) or prevent your VPN from accessing the internet (antivirus software).
FAQs on the Fastest VPNs
What affects a VPN's speeds?
There are a few ways a VPN can impact your speeds: server distance, encryption, and overcoming ISP throttling. When you connect to a VPN, it routes your traffic through a private server before it reaches its final destination. Since it has to travel to more than one destination before reaching you, it can slow down your internet connection. In addition, the process of encrypting your data to keep you protected reduces speeds.
However, the fastest VPNs are designed to reduce the amount of speed you lose. They offer superfast protocols — such as WireGuard, or ExpressVPN's own Lightway. Plus, they give you a large server network and speed-enhancing features to keep your connection smooth. This way, you can stream, browse, game, and torrent without interruptions.
Additionally, VPNs can help prevent ISP throttling. Many ISPs purposely limit users' connection speed (throttling) when they use torrenting platforms. By encrypting your traffic, a VPN can make it harder for your ISP to detect your torrenting traffic so you can enjoy faster speeds.
That being said, your connection with a VPN can only be as fast as your base speed. If your regular connection is slow, a VPN won't improve it.
How can I improve my VPN speeds for gaming?
The main factor is finding a server with low latency. This is usually going to be the nearest connection to your location. If you're wanting to play in another region, check the VPN app to find the server in that region that's nearest you (or nearest the gaming server). Some VPNs list each server's ping, distance, and user load to make it easier for you to select the best gaming connection.
Some games even display their ping. Otherwise, you can run a simple ping test — here's how:
Note the server you'll be using. Find out the domain or IP address of the game's server you'll be playing on. This may take some research.
Open Command Prompt/Terminal. Which you'll open depends on whether you use Windows or macOS. You can find these by using your search bar to type either "Command Prompt" or "Terminal".
Find out the ping. In Command Prompt/Terminal, type "ping" followed by the game's server domain or IP address. Take note of this number. Then follow the same instructions after connecting your VPN to make a comparison.
You can also improve your speeds by switching to the VPN's fastest protocol. WireGuard is generally the fastest — however, some VPNs offer their own speed-optimized protocols (like ExpressVPN and Hotspot Shield). Aside from protocols, I recommend checking your VPN app for speed-boosting features, such as hide.me's Bolt.
Which VPN protocol is the fastest?
WireGuard is usually the fastest, but it doesn't beat a few VPNs' proprietary protocols. I found that you can sometimes get even better speeds than WireGuard by using a VPN's unique protocol. I experienced an immediate speed increase in both instances — when I switched to ExpressVPN's Lightway, and to Hotspot Shield's Catapult Hydra.
Not all VPNs offer their own protocol or even WireGuard. As a runner-up, OpenVPN produces decent speeds while offering strong security (but only with UDP). On the other hand, PPTP and L2TP are older protocols that offer fast speeds, but at the cost of reduced security.
How can I boost my torrenting speeds with a VPN?
There are a few things you can do to get faster speeds for P2P sharing. I've used these methods with many VPNs. In my experience, I still get consistently faster torrenting speeds using ExpressVPN as-is than when I use VPNs with the following features.
Enable port forwarding. Many VPNs offer torrenting-specific features to help boost speeds, such as port forwarding. This feature allows you connect to more seeders and peers, which increases speeds. With ProtonVPN, for ex., just toggle on port forwarding and it will generate the number of a port that you then just copy into your BitTorrent client's connection settings.
Disable NAT firewall. NAT firewalls can also cause slow torrenting speeds. Some VPNs offer the option to disable these firewalls in settings, which will prevent you from failing to connect to seeders (and from peers failing to connect to you).
Use a SOCKS5 proxy. Some VPNs also offer SOCK5 proxy credentials and connecting to this proxy can boost torrenting speeds as well. But, this isn't really recommended since it's something that happens outside the VPN, so it's not as safe. If you're not super concerned with privacy, then this is another possibility.
Will a VPN speed up my internet connection?
In most cases, no, it won't give you speeds that are any faster than your base connection. However, the fastest VPNs will maintain speeds as close to your starting point as possible, by minimizing speed loss.
On the other hand, if your ISP throttles your speeds, a VPN can actually increase your connection speed. Sometimes ISPs will throttle your speeds if you're using a lot of data in your online activities — such as torrenting. Using a VPN can prevent this by encrypting your traffic so your ISP won't see what you are doing online. This way, you can avoid having your connection throttled.
That being said, since VPNs encrypt your traffic, you'll notice somewhat of a speed decrease. If the speed loss is significant, it can create buffering, lag, and long loading times in your online activities. This is why it's best to opt for a VPN that offers lightning-fast protocols and speed-increasing features, like the ones I've shortlisted.
Is a VPN browser extension faster than a VPN app?
VPN browser extensions can sometimes be faster than VPN apps. The problem is that VPN extensions are usually just proxies — while they change your IP address like a VPN app does, they don't encrypt your traffic and only work within the browser itself (any other apps you use won't be affected by a VPN extension). As long as you choose a fast VPN, you shouldn't need to risk your security and privacy with a VPN extension anyway. The VPN's app will keep your entire device protected with military-grade encryption and, for the most part, offer a much larger server network as well.
What is the fastest VPN for Android?
I found ExpressVPN to be the fastest Android VPN. When I tested it with my mobile phone, it gave me 94,01 Mbps which was just 6% slower than my base speed. Some VPNs limit the protocols you have access to on your mobile device. However, ExpressVPN offers its superfast Lightway protocol on Android. Plus, you get unlimited data, speeds, and access to its entire server network.
During my tests, I didn't experience any buffering while using ExpressVPN to stream Netflix on my Android tablet or phone. It worked just as well with gaming — I could easily find a low-latency server to play PUBG MOBILE without lag.
How do I find the fastest VPN server?
Usually, the fastest server will be the closest to you. It's also a good rule of thumb to avoid popular cities, such as L.A. or Tokyo because they will probably be more congested. You should always look for a server with low user load — more congestion causes greater speed loss. The VPNs in this list provide information to help you easily identify the fastest server based on your location.
Some VPNs display your distance to the server, its user load, or its ping — or a combination of these. Alternatively, you can use the VPN's quick-connect feature. This will allow the VPN to select the fastest server based on your location.
How much speed loss is normal when using a VPN?
Due to the security provided by VPNs, up to 50% loss of speed is normal. You can reduce your slowdowns by using a superfast VPN. For instance, ExpressVPN is the fastest VPN I tested — it only slowed my connection by 3% on the majority of its nearby servers.
ExpressVPN also offers the fastest protocols and a huge server network to keep your speeds high. Even installing and navigating it is quick and easy. It provides apps for just about every modern device, so you can get straight to your online activities without wasting time.
What's the fastest free VPN?
There isn't a fast free VPN — but most of the VPNs in this list offer a money-back guarantee. Although they're not free, you can try these VPNs with the assurance that your payment is protected. This gives you time to run speed tests, and try them with any other online activity you enjoy (like streaming, gaming, and torrenting).
The problem with free VPNs is that they are extremely limited. They come with severe data and speed caps, making it almost impossible to use them for any online activity. It's also normal to only have access to a few servers, so congestion reduces speeds even more. The data allowance is usually only enough for 1-2 hours monthly for streaming, at the most. These limitations are put in place to encourage you to upgrade to a paid plan.
Plus, they can slow you down even more by interrupting you with targeted ads. It's not worth it when you can get a premium VPN with a money-back guarantee.
Get the Fastest VPN Today
With so many services claiming to have the best speeds, it's difficult to determine which are truly the fastest VPNs. These VPNs offer superfast protocols, large server networks, and easy-to-use features to give you top speeds.
From these, ExpressVPN is the fastest VPN I tested. It offers its very own Lightway protocol and a huge server network to provide you with ultra-fast and reliable speeds. You can enjoy streaming, browsing, gaming, and torrenting without interruption. Plus, it comes with a 30-day money-back guarantee, so you can test ExpressVPN's speeds yourself risk-free. If it's not for you, you can easily claim a refund.
To summarize, the fastest VPNs are……